DCU-Camping Ålbæk Strand
Denmark / Frederikshavn Municipality
About the campsite

Ålbæk Strand Camping is in a beautiful nature area with woods and stunning white beaches just outside the 'door', and has plenty of activities for both children and adults.
The campsite has a large play area with bouncy castles, a playing field, moon cars, mini-golf, table tennis, beach volleyball, a site for bonfires and several more for barbecues. The beach, which gives the campsite its name, deserves a special mention. Several kilometres of fine white sand, combined with calm shallow waters make the beach perfect for the kids.
Once settled at Ålbæk you'll also find that there's plenty to see and do in the local area. The town was once a fishing port but is now both a fishing port and a marina. It is well worth a visit, and maybe you can even catch something for dinner. Ålbæk also offers beautiful natural resources and countless excursions. You can go hiking in the beautiful Ålbæk Klitplantage, a dune plantation, or visit Råbjerg Mile - a huge sand dune and major tourist destination. And you mustn't forget Skagen - Denmark's northernmost town is just 20km from the campsite - and in Skagen you can find everything from wonderful restaurants and fascinating shops to museums featuring famous Skagen artists' works. Or take a tour to Grenen, where the Skagerrak and the Kattegat meet.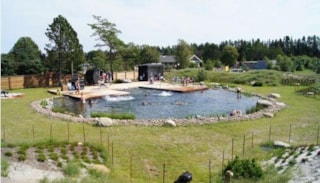 DCU-Camping Ålbæk Strand
Jerupvej 19
9982 Ålbæk, Denmark / Frederikshavn Municipality
Close